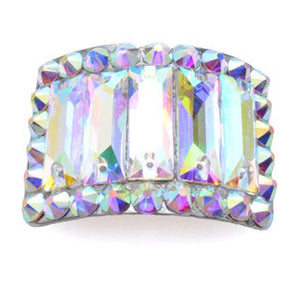 Distinguished Frame - These Irish Dance shoe buckles show off a distinguished rectangular base design that is not only sophisticated but slightly curved to display lovely AB crystal rhinestones.

AB Crystal Bar Design - These stunning buckles will transform any pair of dancing shoes from drab to fab with a spectacular AB crystal bar design. At the center of each buckle are five AB crystal bars that feature glowing facet designs. These bars are bordered by circular 6-mm AB crystal rhinestones that complete the radiant look of these buckles.
Rainbow Display - These buckles truly shine like prisms, as they sparkle with amazing shades of blue, green, purple, yellow, and pink, allowing them to enhance shoes and dance outfits of any color!
Easy Fastening - Fastening these spectacular buckles onto your shoes is simple. Just thread the laces of each shoe through the arm brace located at the back of each buckle.
Made by Antonio Pacelli - Made with the best quality, these shoe buckles are crafted by Antonio Pacelli, a longstanding brand that has been making Irish dance shoes and accessories for over 40 years and is based in England.
Make sure your feet shine like a rainbow as you perform your signature Irish dance moves with this Irish Dancing Heavy Shoes Rectangle AB Diamante 5 Bar Buckle set! These buckles are designed with a sleek rectangular base with a slight curve that shows off the radiance of their entrancing crystal rhinestones. Front and center on each buckle are five AB crystal bars that glow like rare gems. Small, faceted circular 6-mm AB crystal rhinestones border these five crystal bars and shine just as beautifully as the bars. The "AB" in AB crystal rhinestones comes from "Aurora Borealis," which is another name for northern lights, which these crystal rhinestones certainly resemble. AB crystals are made with a special coating, so they create a striking display of colors, with the AB stones in this buckle set exuding a dazzling mix of blue, purple, green, pink, and yellow hues that will turn heads everywhere. This gorgeous array of colors will have all of your pairs of jig shoes beaming on stage! These buckles can be fastened to your shoes in a snap, as they are designed with an arm brace at the back through which shoe laces are threaded for securement. Add the perfect mix of sparkle and color to your dance looks with these AB Diamante 5 Bar Buckles!
So pretty!
These are gorgeous! Super fast ship! Thank you!