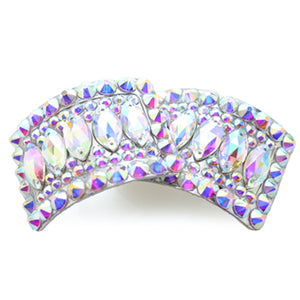 Rectangular Frame - The rectangular shape of these Irish dance shoe buckles is incredibly classic and chic, while a slightly curved shape allows the gorgeous rhinestones to catch the light.
Crystal Navette Design - The focal point of each of these buckles is a glittering row of five AB crystal Navette rhinestones, which are bordered by delicate 3mm AB dot crystals. To frame the entire design is a border of 6mm round AB crystals.
Rainbow Colors - These gorgeous buckles offer a rainbow of shimmering colors with shades of blue, green, purple, yellow, and pink, making these a stunning accompaniment for outfits of any color!
Easy Fastening - An arm brace makes it simple to attach these buckles to your laces. Just thread your shoelaces through the buckle's arm to secure.
Made by Antonio Pacelli -  Made with top craftsmanship, these lovely shoe buckles are made by Antonio Pacelli, a premium maker of Irish dance shoes and accessories for over four decades.
These Rectangular AB Diamante Shoe Buckles with Crystal Navette Design will add a flash of glamorous color and sparkle to your Irish dance look! These amazing buckles will transform any of your dance shoes into light-catching stunners, with a slightly curved rectangular frame that shows off the facets of each crystal. Five Marquise-shaped or Navette rhinestones adorn the center of the buckle and draw the eye. To offset and showcase these Navettes are rows of 3mm dot crystals that add different dimensions and shapes. To add more texture, a border of 6mm crystal rhinestones surrounds the entire rectangular buckle. When light hits these gorgeous buckles, they cast a rainbow of light thanks to the AB coating. The AB stands for Aurora Borealis, the gorgeous northern lights natural phenomenon that emits a gorgeous multicolored glow across the sky. Depending on the light or the angle, the AB crystal rhinestones in these buckles reflect a lovely pink, purple, green, blue, or yellowish light. An arm brace on the back of these buckles makes them incredibly easy and convenient to attach to your shoes. Bring a rainbow of light to your next Irish dance performance with these AB Crystal Navette buckles!