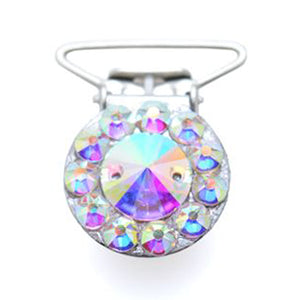 Circular Design - This number clip comes in a lovely circular shape that is naturally elegant and shows off the shine of the AB crystals featured on the front!
AB Crystals - The crystal rhinestone design in this clip is phenomenal. It features a radiant AB crystal rhinestone at the center of the circle beset with a halo of delicate circular AB crystals, with the crystals creating a stunning array of purple, blue, and pink colors.
Secure Clip - The component of this clip that holds your competition number is made of high-grade metal that will firmly attach to your waist during your exciting dance performances!
Optimal Size - This number clip measures 22 millimeters in width, a great size that is not too big but large enough to catch anyone's eye while you're performing on stage!
Made by Antonio Pacelli - This dazzling clip is made by Antonio Pacelli, a reputable brand that has been making Irish dance shoes and accessories for over four decades and is based in England.
Make your competition number even easier to remember for judges with this Circular Irish Dance Diamante Number Clip with Reflecting Clear AB Crystals! This clip is such a spectacular sight, as it shows off a circular design with a bold AB crystal rhinestone sitting at the center with a surrounding halo of smaller circular AB crystal rhinestones. Rhinestones are named after the River Rhine, a river in Austria in the continent of Europe where gorgeous rock crystals were discovered ages ago. The "AB" in AB crystal rhinestones stands for Aurora Borealis, which is a name for the breathtaking northern lights that these sparkling crystal rhinestones undeniably resemble. AB crystal rhinestones are designed with a special coating that reflects an array of colors like a rainbow, and the AB crystals in this competition clip emit rich shades of purple, blue, and pink. Made with a high-grade metal clip component, this clip measures 22 millimeters in width, an optimal size that is not too much but enough to turn heads in the audience. The clip will also securely attach to your waist and hold your competition number during performances. Add an extra dash of rainbow hues and sparkle to your dance looks with this Circular Number Clip in AB Crystals!