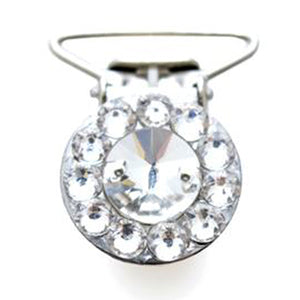 Circular Design - This number clip comes in a sleek circular shape that glows with natural radiance and beautifully shows off the brilliance of the clear crystals displayed on the front!
Clear Crystals - The crystal rhinestone design in this clip is a sight to see. It features a clear crystal rhinestone at the center of the circle surrounded by a halo of tiny circular clear crystals, creating a white shimmer that many will adore.
Secure Clip - The part of this clip that holds your competition number is made of high-grade metal that will stay firmly attached to your waist during your riveting dance performances.
Optimal Size - This number clip measures 22 millimeters in width, a great size that is not too big but is still prominent enough to shine while you're performing on stage!
Made by Antonio Pacelli - This stunning clip is made by Antonio Pacelli, a respected brand that has been making Irish dance shoes and accessories for over four decades and is based in England.
For Irish dancers who want their competition numbers to stand out just as much as their fine dancing, this Circular Number Clip in Clear Crystals is the accessory for them! This clip shines like a jewel, as it features a circular design with an arresting clear crystal rhinestone at the center that is beset with a halo of smaller circular clear crystal rhinestones. Rhinestones are named after a river where rock crystals were discovered, the River Rhine, which is located in the European country of Austria. With clear rhinestones, there is a silver-toned foil or metal lining the back of each rhinestone that can be seen from the front as light reflects off of the facets of each stone. This creates a sparkly light show that will catch any eye! Made with a high-grade metal clip component, this clip is 22 millimeters wide, a size that is just right and will not go unnoticed by the audience, and it will securely attach to your waist and hold your competition number while you are dancing. Full of elegant and head-turning shine, this Circular Number Clip in Clear Crystals will polish up your dance look and is a must-have for any Irish dancer!