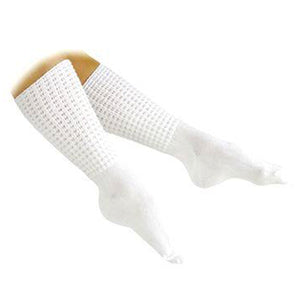 White Color - The vibrant white of these socks will set off any Irish dance look. The classic neutral can coordinate with dance shoes and costumes of all colors.

Championship Length - The traditional championship length of these socks has a design that reaches up to the calf. The textured pattern of the long leg elongates the legs of any wearer, making this style flattering on everyone!
Nylon/Cotton Blend - Made of a 20% nylon and 80% thick-knit cotton blend, these socks offer amazing softness that also wicks away moisture from the skin to deliver incredibly breathable comfort.
Machine Washable - These high-quality socks don't require any special maintenance. They can be machine washed, saving you time and effort when you're on the go!
Four Sizes - Available in four sizes: Petite, Small, Medium, and Large. With these size choices, these Championship Length socks are great for men or women, no matter their shoe size!
Our Championship Length Socks will have you looking and feeling like a winner at your next Irish dance competition! The great look of these socks will help you feel confident while their construction keeps you comfortable, as they're constructed of a 20% nylon and 80% cotton fabric blend. The nylon brings smooth softness, and not only is the thick-knitted cotton soft, but it also delivers durability and moisture-wicking breathability that will keep your feet cool and dry during long dance days. Like all championship length socks, this pair has a long leg that reaches up to the calf, giving an elongating and flattering effect. The dimensioned textured pattern on the leg adds thickness to the sock and accentuates the bright white of the pair. The bright white of these socks will shine under stage lights and is sure to match perfectly with any Irish dance costume or shoe. These socks are both stylish and easy to care for, as they are machine washable, which saves you valuable time and energy. The pair also comes in four sizes: Petite, Small, Medium, and Large. These different size options are great for male or female dancers of any shoe size. Whether or not you take home the prize at your next competition, you'll be a champion in these Championship Length Socks!

Nice shoes and socks
We're new to this item. Haven't started dance class yet. Shoes and socks appear to be nicely made. shipped in good time.
Good socks
Comfy, and they fit well.