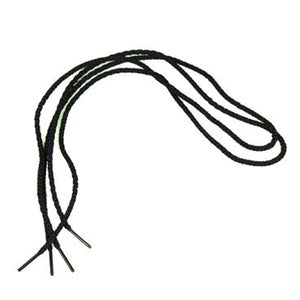 Fabric Features - An intricate pattern gives these jig shoelaces texture and dimension that can be felt and seen when up close.
Black Color - The traditional black color of these laces is classic for a reason—the shade will coordinate perfectly with shoe buckles and dance costumes in any color of the rainbow!
Optimal Length - These laces measure 66 centimeters, which is roughly 25.98 inches, in length. They offer ample length for securing your shoes firmly and keeping them tied while you're dancing on stage!
Replace Worn or Missing Laces - As they're sold in pairs, these laces are great for dancers who need them to replace a broken or lost lace, especially at the last minute, taking some of the stress out of performance days.
Made by Antonio Pacelli - One of the top producers of Irish dance accessories for over 40 years, adds these sturdy and elegant laces to their offerings as part of their commitment to quality.
Jig shoes are an essential part of a successful Irish dance performance, as every dancer can attest. Thought and consideration is important in selecting the perfect shoe for size, tips, and heels, and it is vital not to forget about the shoelaces. Without shoelaces to securely fix the jig shoes to your feet, the rest of the features of the shoe don't matter—a loose shoelace can ruin an entire performance. Keep your shoes firmly anchored to your feet during long dance days by securing them with these Jig Shoe Laces in Black! A textured fabric design on the laces shows off delicate weaving when looked at up close. The classic black of the laces is a perfect dark accent for any dance shoe and will be a great backdrop for colorful shoe buckles and extravagant outfits in every shade! These laces are 66 centimeters, or approximately 25.98 inches, in length, offering enough length to firmly fasten your shoes so they stay put when you're dancing for hours in rehearsal or competitions! As they are sold in pairs, these black shoelaces are perfect for conveniently replacing a worn or lost lace. These high-quality Black Irish Dancing Jig Hard Shoe Laces by Antonio Pacelli es will keep you and your shoes on top of the game at your next performance!