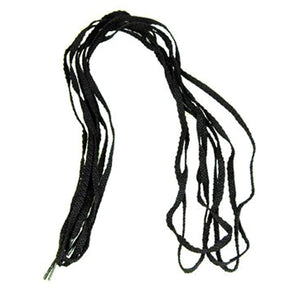 Fabric Features - The textured pattern of the fabric of these round pump laces features an intricate, delicate design that shows off their quality when viewed up close.

Black Color - The classic black color of these laces will pair amazingly with outfits, shoes, and accessories of all colors, making them a perfect standby.
Optimal Length - These laces have a length of184 centimeters, which is roughly 72.44 inches. That long length provides plenty of space to secure your pumps firmly to your feet, which is key when you're dancing vigorously!
Replace Worn or Missing Laces - As these laces come in pairs, they are perfect to have on hand to replace a broken or worn lace at the last minute, saving you stress on championship weekends!
Made by Antonio Pacelli - These black round pump laces are crafted by Antonio Pacelli, a top maker of Irish dance accessories and shoes for over 40 years.
Called by several different names, including Irish dance soft shoes, reel shoes, and Irish dancing light shoes, Irish dance ghillies, Irish dance pumps are a key component of traditional Irish dancing. The sleek shape of Irish dance pumps and their elegant design offers dancers a flattering silhouette that elongates the legs and feet, making you look like a graceful professional. Even more critical than the stunning design are the tactical components of pumps, especially the laces, which are vital when securing the pumps to your feet and keeping them in place while you dance your best. Keep your pumps tied tightly while looking like a true champion in these Black Replacement Irish Dance Laces for Dancing Pumps! The detailed weaving on the fabric of these laces brings texture and dimension to your look. The timeless black of these laces will pair perfectly with any shoes and Irish dance outfit, no matter the color. With a length of 184 centimeters or about 72.44 inches, these laces give you plenty of lengths to tie your pumps tightly, a must when you're dancing all day long at challenging competitions! Since they're sold in pairs, these laces are great to have on hand to replace missing or damages laces and save you time and stress during championship weekends. Make sure you're performance-ready for your next feis with these round pump laces!