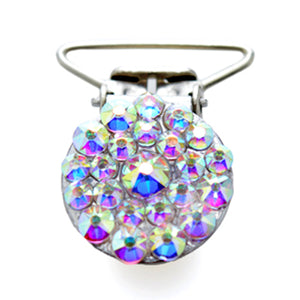 Circular Design - The classic circular shape of this great number clip is elegant and sleek while it showcases the sparkle of the gorgeous AB rhinestones that adorn it.
AB Crystals - The design of the AB crystal rhinestone is absolutely stunning. A large circular stone is the focal point of the clip, surrounded by a halo of tinier circular stones. These AB crystals show off a special display of pink, purple, and blue when they catch the light.
Secure Clip - A high-grade metal piece on the back of the competition clip attaches securely to your competition number and your waist, sure to stay in place during your live performances.
Optimal Size - At 22 millimeters wide, this clip is a perfect size that is not overwhelming, but large enough to add bold and eye-catching shimmer to your onstage look.
Made by Antonio Pacelli - A top brand of Irish dance accessories and shoes. They have been creating high quality products for dancers for over forty years in England.
Be sure to shine on stage at your next Irish dance performance with this Exquisite Circular Irish Dance Dress Number Clip with AB Clear Crystal Rhinestones! This clip is a stunning sight to behold—its circular design of over 20 circular AB crystal rhinestones centers around a large center stone decorated with a sparkling border of smaller stones. High-quality AB crystals provide a gleam of light and color that will get you noticed on stage. The name rhinestone comes from the Rhine River in Austria, where rock crystals had been discovered long ago, and the "AB" in AB crystal rhinestones is from the Aurora Borealis, the Latin name of the gorgeous northern lights phenomenon. The AB rhinestones are made with a special coating that causes the crystal to shine with a glow reminiscent of the elusive Aurora Borealis. The colors that the AB crystals exude span the rainbow, like gorgeous shades of pink, blue, purple, and green. A top quality metal clip secures your gorgeous clip easily to your competition number and your outfit while you dance your best onstage. The clip measures 22mm in width. Let this AB Crystal Competition Number Clip with Small Rhinestones bring magical color and shine to your Irish dance outfit!