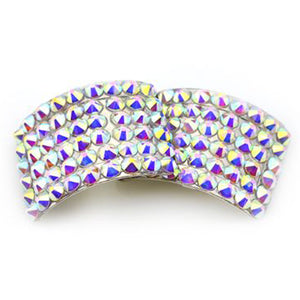 Rectangular Design - These Irish Dance shoe buckles come in a geometric rectangular shape lends a sleek elegance to your shoes with rounded corners and classic style.

50+ AB Crystal Rhinestones - Each shoe buckle glows brightly with over 50 AB crystal rhinestones. These crystals are of the highest grade to deliver maximum light refraction. The rhinestones also create over 400 reflective surfaces that generate breath-taking shine that will catch anyone's eye!

Colorful Display - Unlike clear rhinestones, AB rhinestones are made with a coating that reflects a spectrum of vivid colors. The AB crystals on these buckles emit a lustrous mix of pink, blue, and purple colors, which will complement any shoe or dance outfit!
Easy Attachment - These buckles are easy to fasten to your shoes. Just thread the laces of each shoe through the arm brace located at the back of each buckle.
Quality Brand - These AB Crystal Irish Dance Buckles are crafted by Antonio Pacelli. Antonio Pacelli has been making fine Irish dance shoes, pumps and accessories for over 40 years and is based in England.
Make your presence known at your Irish dance performances by making your shoes shine with these Glowing 50 AB Reflecting Crystal Irish Dance Buckles for Champions! These buckles are designed in a striking rectangular shape that immediately enhances your dancing shoes with some refined, colorful polish. Embellishing each buckle from top to bottom are over 50 high-grade AB crystal rhinestones. Rhinestones get their name from the River Rhine, a river in Austria in Europe where rock crystals were discovered years ago. The "AB" in AB crystal rhinestones comes from Aurora Borealis, which is another name for the amazing northern lights that these scintillating crystal rhinestones resemble. AB crystal rhinestones are made with a special coating that reflects an array of colors like a prism, and the AB crystals on these buckles yield lovely hues of purple, blue, and pink. These crystals also create over 400 reflective surfaces that will have your feet radiating like rainbow diamonds when you're on stage! Easy to fasten, these buckles attach to your shoes through an arm brace at the back of each buckle, where the shoelaces of each shoe are threaded. Make a vibrant entrance at your next Irish dance show with these stunning AB Crystal Irish Dance Buckles!
Great service
We received our order in a very timely manner. Everything was perfect. Thank you!