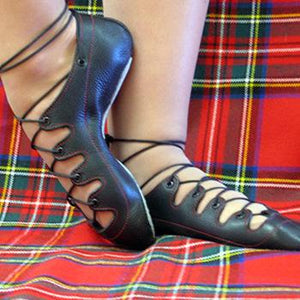 Available for the first time in North America, Corr's is proud to present the 'James Roy' Highland Dance Ghillie in Red color. The 'James Roy' Highland comes with a fully-padded in-sock, and extra double padding under the ball of the foot area. It has a soft and durable leather upper and full white sole with red stitching. Ideal for both beginners and advanced Highland dancers
If you're looking for a full black sole, with black stitching, see our Corr's James Roy Highland Ghillie - BLACK.
Items purchased
I'm satified with the items I ordered. Good quality. For the shoes I ordered a size 12 in a child. They seem a little small. Her toes are at the tip of the shoe. She has worn them all ready. Can I exchange them?