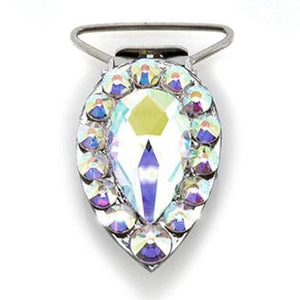 Pear-Shaped Design - This number clip is designed in an eye-catching pear shape that is undeniably gorgeous and wonderfully shows off the glow of the AB crystals displayed on the front!

AB Crystals - The crystal rhinestone design in this clip is exquisite. It features an AB crystal pear-shaped rhinestone at the center beset with a halo of delicate, circular AB crystals, with the crystals emitting a mesmerizing array of purple, blue, and pink colors.
Secure Clip - The portion of this clip that holds your competition number is composed of top-quality, high-grade metal that will securely attach to your waist during your riveting dance performances!
Optimal Size - This number clip measures 22 millimeters in width at its widest point and spans 35 millimeters in length, a great size that is not too big but large enough to catch any judge's eye while you're performing on stage!
Made by Antonio Pacelli - This lovely competition number clip is crafted by Antonio Pacelli, a reputable brand that has been making Irish dance shoes and accessories for over four decades and is based in England.
Make sure that your competition number is shining just as much as you are with this Polished Pear Shaped Irish Dance Dress Number Clip with AB Crystals! This clip certainly glows like a treasure, as it shows off a distinguished pear-shaped design with a beaming AB crystal rhinestone sitting at the center with a surrounding halo of tiny circular AB crystal rhinestones. Rhinestones are named after the River Rhine, a river in the country of Austria in Europe where beautiful rock crystals were discovered many ages ago. The "AB" in AB crystal rhinestones actually stands for Aurora Borealis, which is a name for the breathtaking northern lights that these radiant crystal rhinestones are reminiscent of. AB crystal rhinestones are created with a special coating that emits an array of colors like a rainbow, with the AB crystals in this clip emanating gorgeous hues of purple, blue, and pink. Crafted with a high-grade metal clip component, this clip measures 25 millimeters in width at its widest point and measures 35 millimeters in length. This competition clip is built to stay securely fastened to your waist and hold your competition number during dance performances. Add some dazzling elegance to your Irish dance competition looks with this Pear Competition Number Clip with AB Crystals!