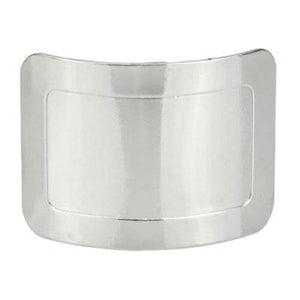 Rectangular Design - These plain shoe buckles come in a polished, silver-toned rectangular shape with rounded corners that lends a classic elegance to your shoes with sophisticated style.
Portrait Style - The center of each buckle is slightly recessed, allowing the borders to be elevated and well-defined for a sharp, portrait-like effect. This is great for highlighting the center of each buckle with an amazing centerpiece design.
Blank Canvas - With these plain buckles, Irish dancers have the creative freedom to decorate them to their liking to show off their unique style in their dance outfits. These buckles can be embellished with anything from clear crystal rhinestones to rainbow-like AB crystal rhinestones!
Arm Brace Fastening - These buckles come with a straightforward shoe fastening design. Attach them by threading shoelaces through the arm brace located at the back of each buckle.
Made by Antonio Pacelli - With the best quality, these shoe buckles are crafted by Antonio Pacelli, an established brand that has been making Irish dance shoes, socks, and accessories for over four decades and is based in England.
For Irish dancers who want to spruce up their dance outfits with accessories in their own unique ways, these Polished Plain Square Irish Dance Buckles For Jig Shoes Made in Ireland are just the fit! This buckle is made of bright silver-toned metal and comes in a rectangular shape with rounded corners, creating a sleek base that dancers can adorn with crystal rhinestones. The center of the buckle is slightly recessed for a distinguished portrait effect, while the borders are slightly elevated and well defined so that they can be embellished in a way that beautifully frames the center, where custom centerpiece rhinestone designs can shine. Such custom designs can include Navette crystals or lively designs like butterflies or shamrocks! Each buckle is also curved for optimal attachment to your shoes while providing a fabulous angle for display. This plain buckle is truly a canvas, so you can take the freedom to go wild with crystal rhinestones of all sizes, shapes, and colors! For dancers with classic style, crystal clear rhinestones may be a nice option, as these rhinestones boast an entrancing white glow. For dancers who want to turn heads with color, AB crystal rhinestones are a wonderful choice. AB crystal rhinestones reflect a spectrum of colors depending on the stones, such as a mix of purple, blue, and pink, for instance. With an arm brace at the back that shoe laces are threaded through for fastening, these buckles are easy to secure onto your shoes. Customize your Irish dance looks by decorating your own Plain Square Buckles!
Fab buckles!
These buckles are great ! They are perfect for class and casual events. Corrs shipped the item quickly and I would highly recommend them.