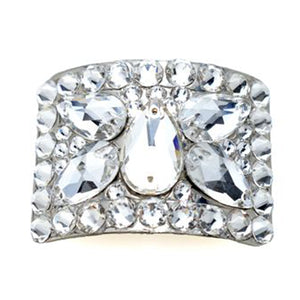 Rectangular Base - These amazing Diamante Buckles take a lovely rectangular frame with rounded corners. The slight curve of the base shows off all the multi-dimensional sparkle of the gorgeous rhinestone accents.

Clear Crystal Rhinestone Butterfly Design - The unique and modern butterfly design is depicted in five pear-shaped rhinestones forming the wings and body of a beautiful butterfly. Small round rhinestones accent the butterfly design and the buckle is bordered with larger rhinestones for extra shine.
Crystal Clear Presentation - The bright sparkle on these clear rhinestones is sure to get you noticed, and their silvery-white shine will coordinate with dance ensembles in all colors of the rainbow!
Arm Brace Fastening - To attach these unique buckles to your shoes is easy and convenient—just thread your shoelaces through arm brace on the back of each buckle to secure it to your shoe!
Made by Antonio Pacelli - Antonio Pacelli is a top brand for fine Irish dance shoes and accessories for over four decades in England. You can be sure that these beautiful buckles are created with the best craftsmanship.
These Polished Rectangular Crystals and Diamante Buckles for Irish Dance Shoes with Butterfly Design will fly your Irish dance performances to new heights! This gorgeous rhinestone design is set in a rectangular buckle shape with smoothed corners for an elegant shape. Front and center is a beautiful butterfly design, made of five pear-shaped rhinestones to create the body and wings. Several tiny clear round crystals surround the butterfly's body.
To finish off the buckle, a border of larger circular rhinestones extends around the edges of the rectangular shape. The name "rhinestone" comes from the glistening Rhine River in Austria, where the stones have been discovered. Silver-toned lining backs these gorgeous clear rhinestones and can be seen when the light reflects on the delicate facets of each of the stones. When the stage lights hit them, the crystal-clear rhinestones on these buckles create a dazzling white shine that will make your fancy footwork the star of the show. Because the white sparkle goes with all colors, these gorgeous buckles will complement all of your different Irish dance costumes. These amazing buckles are naturally sold in pairs and they fasten easily to your shoes using a back arm brace that secures to the shoelaces. You'll be sure to float like a butterfly at your next performance in these extraordinary shoe buckles!