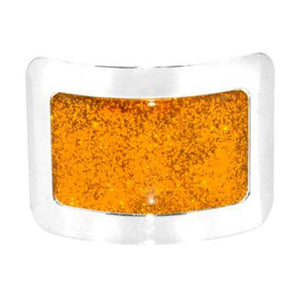 Rectangular Base - Classic and chic, these Irish Dance shoe buckles come in a rectangular base that is slightly curved to fit onto your shoe while showing off a colorful design.

Metal Composition - These shoe buckles are made of a silver-toned metal, giving them strength and structural quality that will have them lasting longer than shoe accessories made of other materials.
Cheerful Color - At the center of each buckle is a pop of lively orange highlighted with sparkling glitter. This orange is shaped like a rectangle that contrasts sharply with the silver-toned metal of the buckle.
Simple Fastening - These buckles come with an easy shoe fastening design. Simply thread shoelaces through the arm brace found at the back of each buckle for securement.
Made by Antonio Pacelli - With the utmost quality, these shoe buckles are made by Antonio Pacelli, a respected brand that has been making Irish dance shoes and accessories for over 40 years and is based in England.
Bring some life to your Irish dance shoe style with this Shiny Dance Square Buckles for Jig Shoes with a Glittering Orange Design! This buckle is crafted from a bright silver-toned metal, making it strong, durable, and able to last longer than shoe accessories made of other materials. These buckles are shaped into a polished rectangle with rounded corners, and they are slightly curved so that they can easily fit onto your shoes and show off a vivid design. At the center is a rectangular block in a zesty orange color highlighted with sparkly glitter, creating wonderful shine and depth. This orange shade contrasts sharply with the silver-toned borders of the rectangular frame of the buckle, creating an eye-catching color combination. This color scheme is great to wear on festive occasions like St. Patrick's Day, or it can be used to complement dancing shoes and outfits in other vibrant colors, especially green! This beautiful buckle can also be worn as a simple but attractive dash of color to neutral or monochromatic outfits in shades of gray and white. Available in pairs, these buckles are easy to fasten to your shoes. Laces of the shoe are threaded through an arm brace located at the back of each buckle. Light your dancing feet up with these fun shoe buckles!